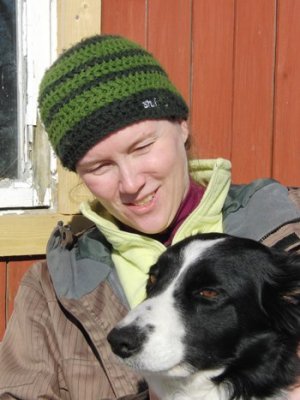 Me and Dusela, the dog on the farm!
Welcome! Here is your chance to get to know the recently discovered Crazy Bird! 
These pages will also show you some of the other things I enjoy making.
This is a summary in English for those of you who don't read Swedish.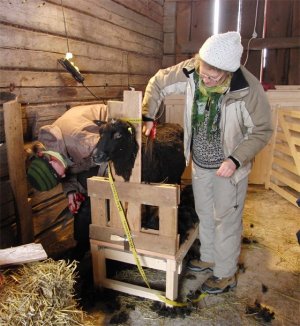 I am the one bending over.
In 2010/11 I spent my days on a farm called Myre, outside Sandviken, and that is where I first came in contact with sheep and wool.
We sheared the sheep by hand with shearing scissors. I was asked if I wanted to try and make innersoles for our shoes with the wool we had sheared, and of course I did.
I washed the wool very gently by hand (actually I tried the washing machine's wool program ONCE; it did not turn out the way I had hoped).
I borrowed carding combs and a felting needle and so my wool adventure began!
After having felted innersoles I wanted to do more! Soon I discovered that no one in our town sold wool for felting, and I wanted to felt in other colors than black/brown. What to do? Well, the only thing I could do was to buy wool yarn in the colors I wanted and then use the carding combs on it, and instantly I had wool which I could continue felting.
With the needle I could make small sculptures and it totally fascinated me, and still does!
After experimenting with different shapes I started to make birds. I was inspired by wool birds my mother once bought for my girls.
I decided to make my birds more colorful and in a simpler design, and that is how the Crazy BIRD was born.
On many of my pictures I've posted comments in English  in italics. This way, I hope, the English comments will be easier to find.